Hjem » Various - Beasts Vol. 3, LP
Various - Beasts Vol. 3, LP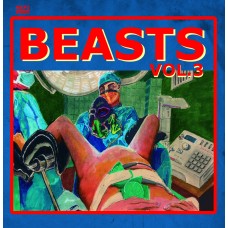 Label:
Rekords Records
Tryk:
Denmark
Katalog#:
REKREC001
Stand:
NEW
År:
2018
Lagerbeholdning:
På lager
Pris: DKK150,00

Beasts Vol. 3 - an instrumental compilation with beats and tracks from some of the very best producers and beatmakers in Denmark. 16 cuts, all killer no filler, with tracks selected by Jakob med K and released through Rekords Records.
The two previous Beasts were released in 2010 and -11, respectively. Now, the time is ready for a follow-up, and with good reason - the Danish beat standard has never been higher. On Vol. 3, you'll find a host of DK legends - Context & Scratchmagic from Nobody Beats the Beats, for example, rubbing shoulders with upcoming young guns like HansSolo, sole non-US member of the Pro-Era crew.
Beasts Vol. 3 is released by Rekords Records, Denmark's premier store for new and used hip hop vinyl. There's a slew of stuff planned for release in 2018 - stay tuned!
Mastered by IKACO
Artwork by Lord Loopitah
Executive Producer: Jakob med K

Tracklist

A1: Sofa T - Oymyakon

A2: Boone - St. Afeli

A3: Berlin Zoo - Break Water

A4: HansSOLO - Walk This Way

A5: ScratchMagic - Cannonball Slow

A6: Antik - Klade

A7: Fede Poul - Trash Records

A8: Lord Akton - Latvian Alliance

B1: Aske The Floppykat - Lagoon Theme
Featuring - The Funky Lagoon Family

B2: Context - Sattva

B3: Chewbacca - Overgivelse

B4: Telepa-T - Nebula

B5: Swab - The Disease

B6: Kongchain - Louder

B7: PhaFalAion - Relieved

B8: IngrediJens - Save Her